---

---
ENERGIE is a leading company in production of thermodynamic solar panels. ENERGIE products are sold in more than 29 countries on four continents. The strategy of this brand is based on customers´ satisfaction and it is a synomym for reliability, quality, innovation and effectivity. It follows strict standards, which are aimed at saving, convenience and welfare of customers.
Do you want to know how much it would cost?
Show price

Prices of Eco small systems beginning with €3 000, including VAT
Contact us for more information

I want to know more.
HEAT IS CAPTURED THROUGH SUN SHINE, ENVIRONMENT TEMPERATURE, RAIN AND WIND
HEAT PRODUCED DURING COLD DAYS, EVEN IN THE NIGHTS IS SUFFICIENT TO ACHIEVE REQUIRED WATER TEMPERATURE
SOLAR PANELS ARE LIGHT, NOT PROMINENT AND UNIVERSAL IN LOCATING
HEAT EXCHANGER IS NOT IN DIRECT CONTACT WITH WATER – PREVENTS LIME FROM CREATING ON THE EXCHANGER
THERMODYNAMIC SOLAR ENERGY OF 3RD GENERATION
HOT WATER UP TO 55° AVAILABLE FOR 24 HOURS A DAY
MINIMAL MAINTENANCE
ENERGY CONSUMPTION OF THE DEVICE IS REDUCED DUE TO HIGHLY EFFICIENT COMPRESSOR
DE-ICING CYCLE IS NOT NEEDED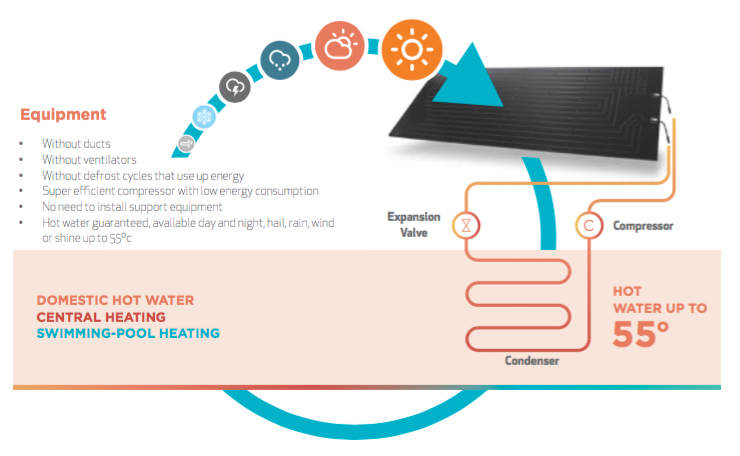 Solar Panel
• Captures heat regardless of climate
• Primary circuit does not need to dissipate excess heat on hotter days
• Simple integration with architecture, versatile, no visual impact
Device
• Without fans
• Without de-icing cycles, which consume energy
• Highly efficient compressor with low energy consumption
• Without need to install supplementary device
• Hot water guaranteed, available day and night, hail, rain, wind or shine up to 55ºC
Thermodynamic Solar System joins two incomplete technologies, the heat pump and the solar thermal collector. Heat pumps are very efficient devices, but they cannot extract energy from the sun shine. Solar thermal collectors are the most suitable source of heat on warm and sunny days, but they are absolutely unuseful, when the sun doesn´t shine. Thermodynamic solar technology can overcome limits of both the heat pump and the solar collector technologies. Through the cooling liquid (R134a or R407c) circulating in the closed circuit, the liquid runs into the solar panel and takes the energy from sun, rain, wind and surrounding environment. During this process, the liquid gains heat in more effective way than the heat pump. After this step, the heat is delivered into the heat exchanger via small compressor, which warms water. Since the liquid has boiling point around -26°C, the system operates also when the sun is not shining. It provides hot water during the day, in the night, rain and wind unlike the common solar thermal system. In the system, there are no fans, which help in the process of evaporation or de-icing, what means unnecessary energy consumption.
• ANODIZED ALUMINUM, WITH FLEXIBLE SURFACE LAYER
• LOW WEIGHT – ONLY 8KG, SIMPLE TRANSPORT AND INSTALLATION
• DIMENSIONS: 2m X 0.8m X 0.02m
• NO GLASS, RUBBER OR FRAGILE MATERIALS
• NO RISK OF OVERHEATING
• NO RISK OF FREEZING
• HIGH RESISTANCE TOWARDS HUMIDITY
• CAN BE INSTALLED FROM 10° TO 85° IN HORIZONTAL POSITION
• CAN BE INSTALLED ON THE ROOF, WALL, IN GARDEN ETC.
• PANEL DOES NOT LOOSE ITS EFFICIENCY BY TIME AND DIRT
• NO NEED TO CLEAN IT
• DURABILITY EXPECTED FOR 25 YEARS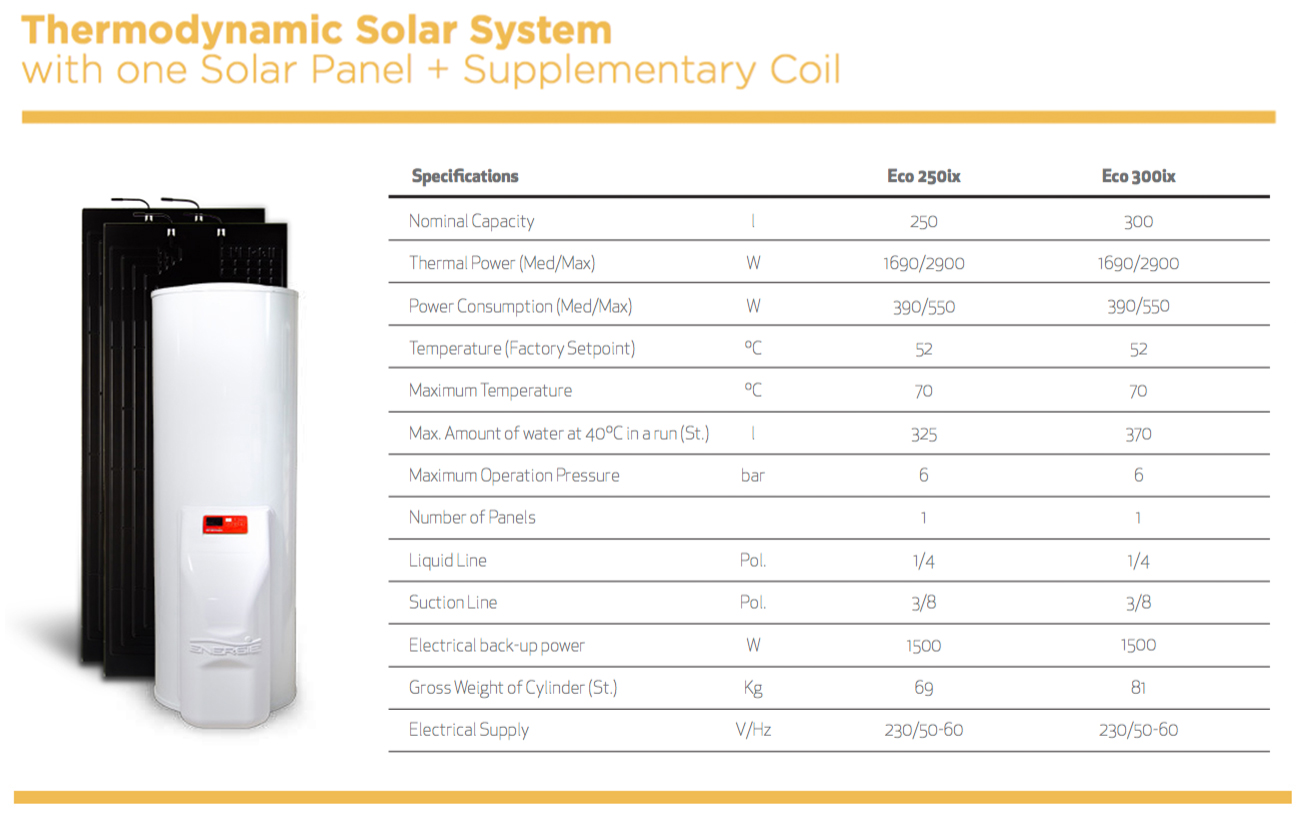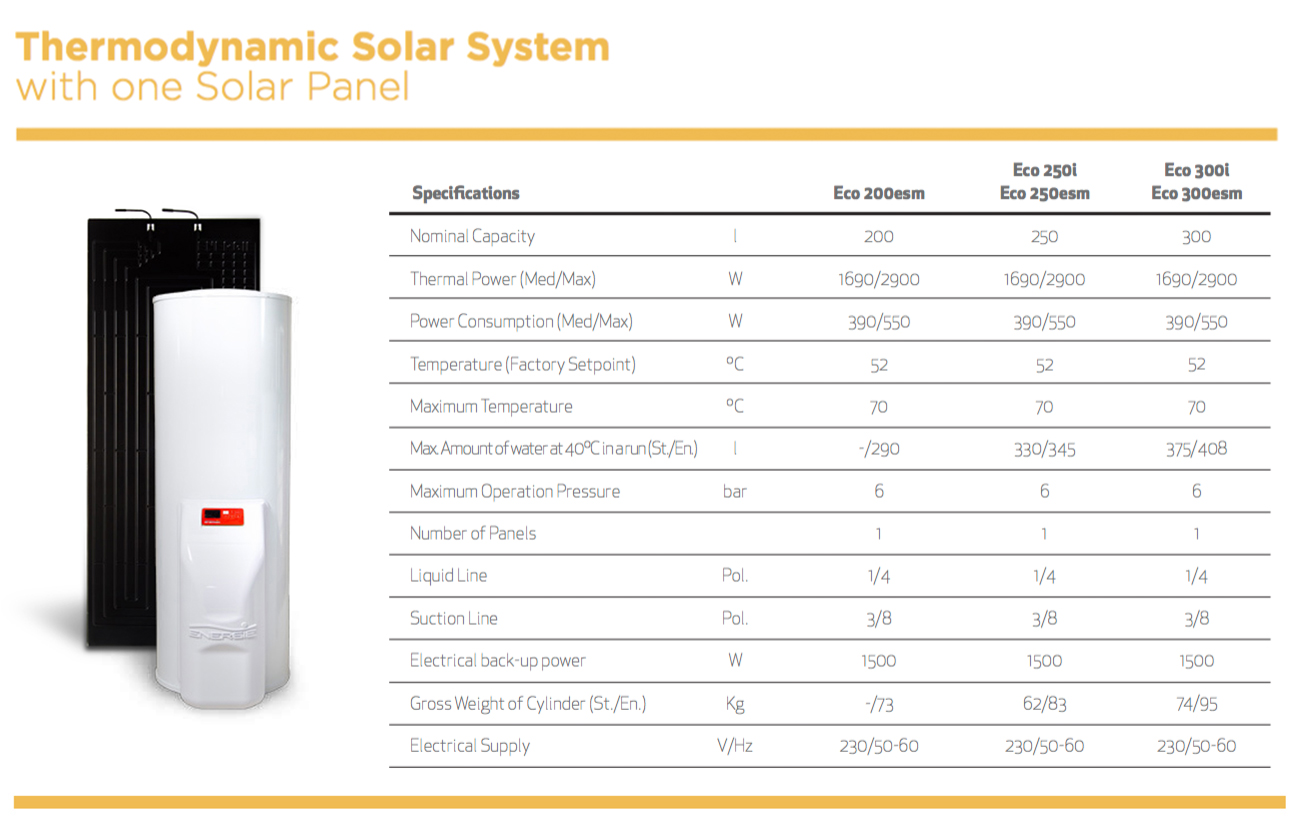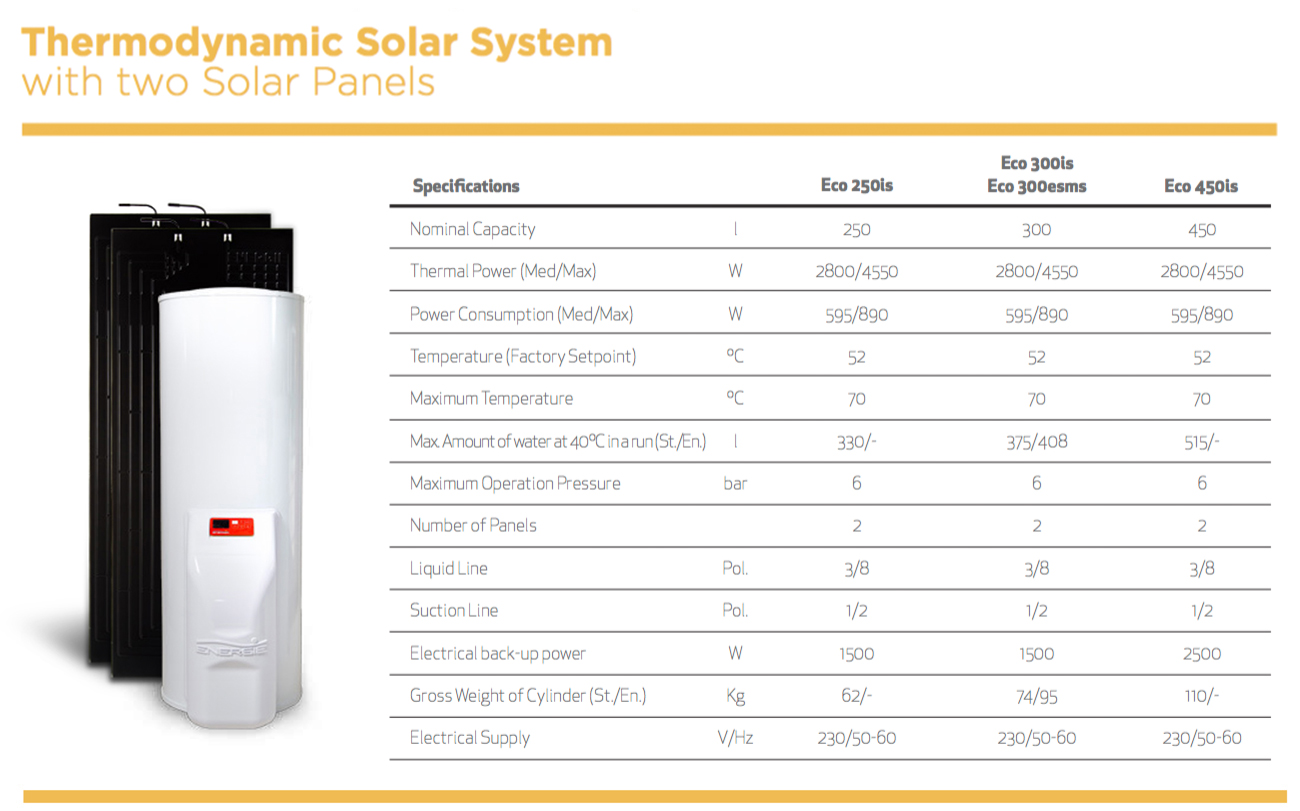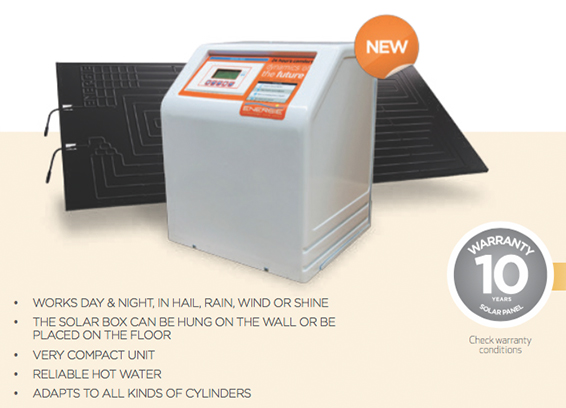 • WORKS DURING DAY AND NIGHT, IN STORM, RAIN, WIND
• SOLAR TANK CAN BE SUSPENDED ON THE WALL OR PUT ON THE FLOOR
• VERY COMPACT UNIT
• RELIABLE HOT WATER SUPPLY
• OPTION TO CONNECT WITH ALL EXISTING TANKS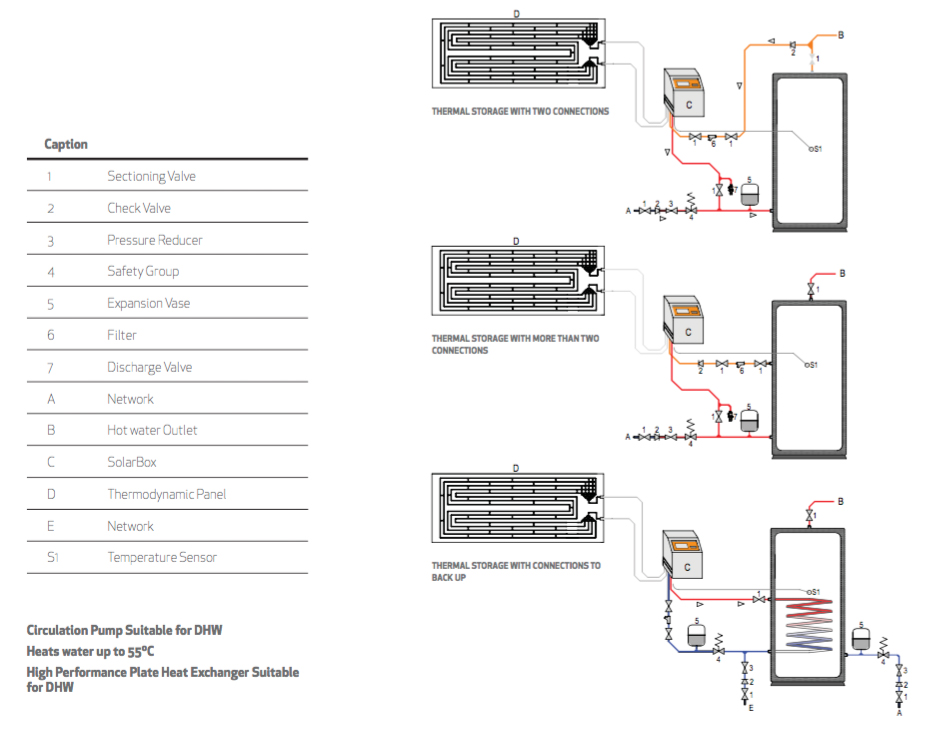 If you have any questions, do not hesitate to contact us.
Our colleagues will readily help you and answer all your questions.
---